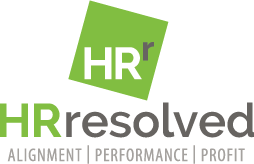 We have learned a lot in the first few years of operating HR Resolved (HRr). One of the most important lessons we've learned is that fewer people than we realized have been exposed to the benefits of strategic HR and the outsourced HR model.
We'd like to change that!
To that end, we are excited to launch our new web presence, including YouTube content, which will continue to explore the benefits of optimizing employee alignment and performance through the power of strategic Human Resources leadership & practices.
With our new web presence, you can better see the role HR Resolved plays in helping create happy employees, aligning with the founder's mission and the profit that improved HR drives back into our clients' businesses. In this and future communication, we also hope to better distinguish HR Resolved from some of the more narrowly-focused transactional services branding themselves as 'HR' solutions despite being built around reactive policymaking.
Since launching HRr in 2013, we are proud of the progress made by the great businesses that have utilized our platform to make themselves even better. And as we've grown, that same platform of alignment, performance leadership, and business process and tools, alongside key infrastructure for more 'traditional HR' (benefits administration, on and offboarding, compliance, etc.) has become stronger than ever!
Please run around our new website, subscribe to the content page and view a few videos. It would mean the world to me if each of you would remember to like and share the videos and content not just on LinkedIn but throughout your professional networks. We are ready to grow and we would love your help!